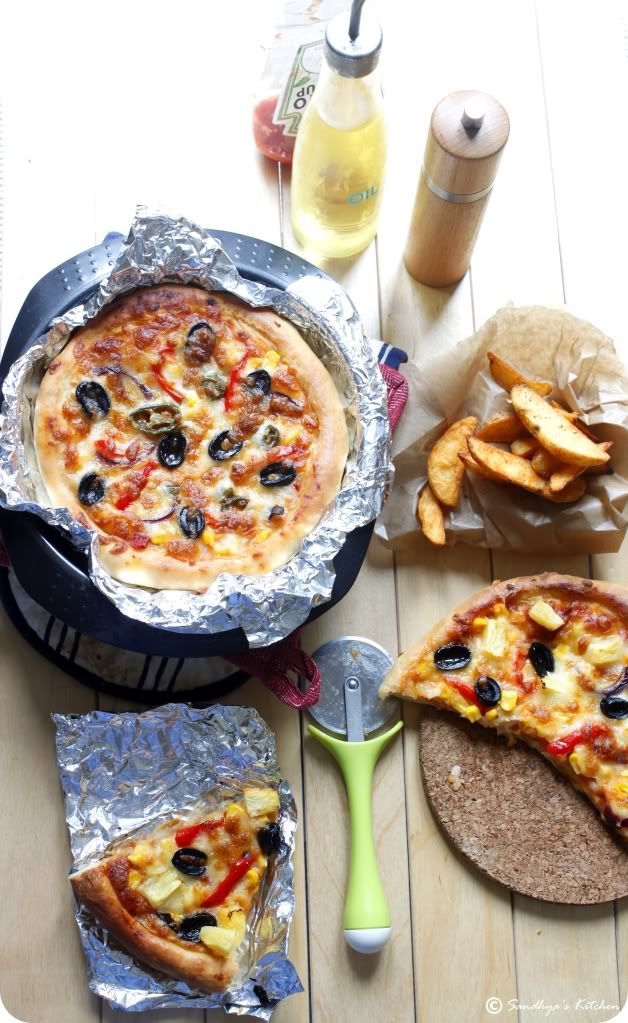 I love Pizza's !!!! And who wouldn't love Domino's??? They always come up with new promotions ..Way back in India they had this 30 min delivery challenge.. Invariably they wud land up late at my door and deliver it free 🙂 Isnt it lucrative… I used to be a bit worried if the driver/ delivery boy would have to pay a penalty for this.. But I did speak to the store manager who hands it over.. and they were quite clear that the delivery boy's have got nothing to do with it… This used to give me peace of mind .. and enjoy my Pizza Guilt freee….
Well well.. when I was offered for a challenge to try a dominos pizza of my choice .. and compare it with mine , never bothered to think twice… Firstly .. Love their pizza….Secondly why not????I love my pizza too… Isnt it a good idea to get to business now :))
Ordering Pizza online from the Domino's website is damn easy . Just enter your postcode to kick start the process and you are on the pizza menu . One regret is that , there is not much of creativity with the veggie menu .. we just have 4 options. If you are really picky about your topping like me , best is to create your own pizza.. I have ordered Vegetarian Supreme minus Mushrooms & tomatoes plus pineapples & black olives. But since the software just allows you to make 2 changes overall , I had to create one on my own instead of predefined toppings.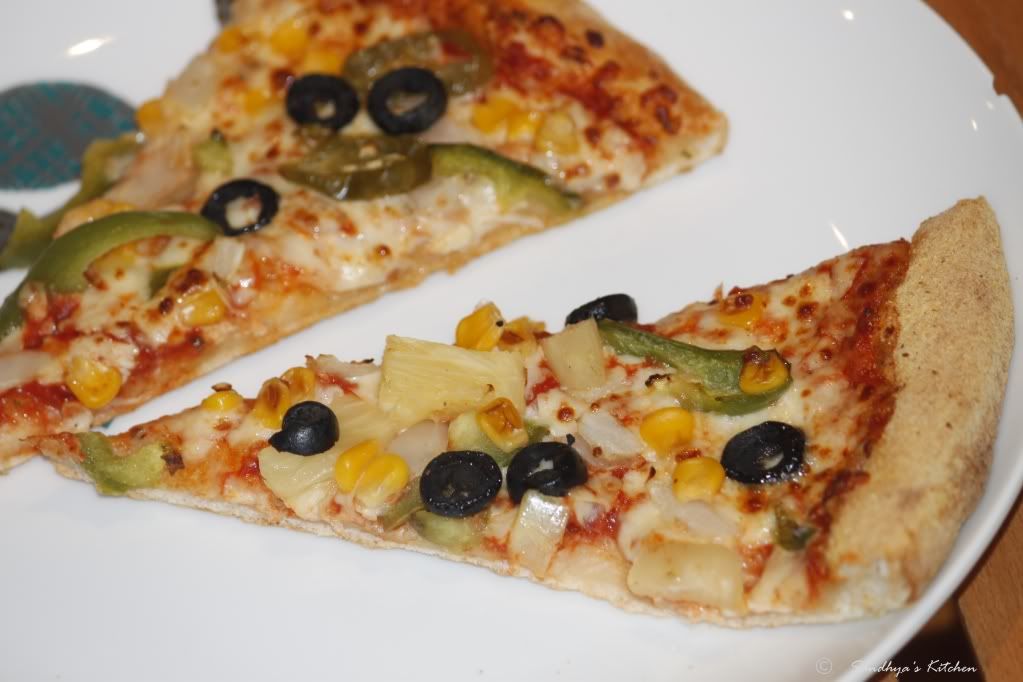 Second pizza we tried was Veggie Volcanos.. Again .. with modifications ,I had to create one on my own and include black olives instead of tomatoes and add the garlic butter.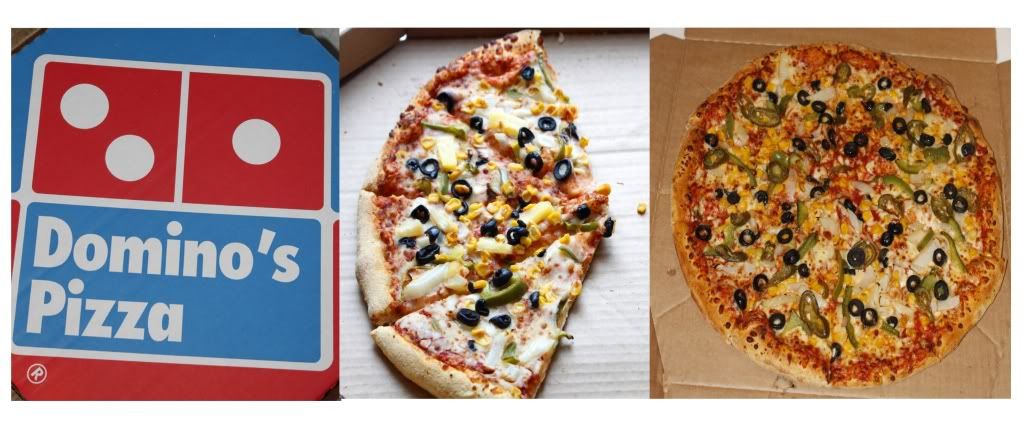 Otherwise… they are sooper cool . Be it delivery or payment… Very prompt on time too ..
They close their ordering by 11pm and quite promptly update their website too.. Thats really techy and perfect to keep the customers updated.
How did the challenge go???
VERDICT
I love my pizza's tooo 🙂 . But I would say the base got slightly thicker than the dominos one.Before I forget , Domino's pizza are quite generous in their size compared to "P" pizza … Quite visible to the naked eye and hungry tummies :))
I love the garlicky flavour in the pizza ordered.. Cant get it right when made at home.. either they become too flaky .. or we have chews of them here and there… making our experience very unplesant….
Liil V loves his mama's pizza… no more Uncle's ( Domino's / "P") Pizza .finally !!!! Hurray .. 🙂 If untold ,"my pizza had the same taste and flavour as any branded… " said H … Tat made my evening….
No matter what pizza it is , I always keep aside 2 slices of my pizza for my next day lunch… They taste even better undoubtedly .. Do you agree???
HOMEMADE PIZZA RECIPE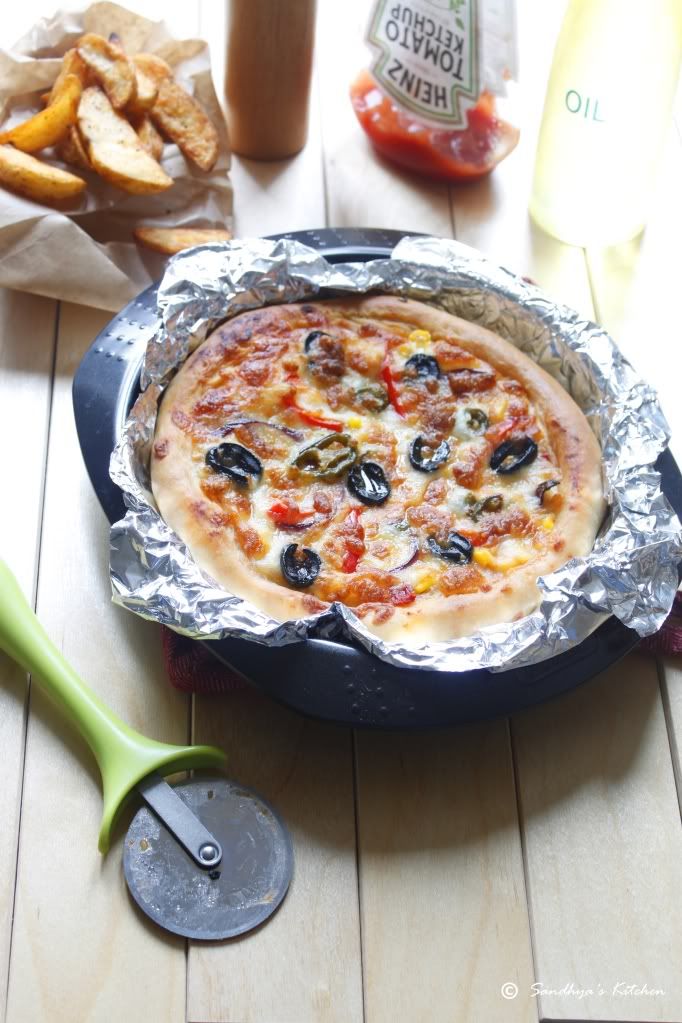 I have made my base a couple of times with this recipe and its perfect. I loved this program Baking made Easy by chef Lorraine Pascal .Dunno why BBC discontinued with 5 episodes..
INGREDIENTS
For the Basic Dough :
Source : BBC Good Food
| | |
| --- | --- |
| Strong White Bread Flour | 250gm /9 0z / 2 Cups + Extra for dusting |
| Fast Action Dried Yeast | 1/2 Tsp |
| Warm Water | 145ml /5 Oz |
| Olive Oil | 2-3 Tblspn |
Other Ingredients:
| | |
| --- | --- |
| Pasta Sauce ( Tomato & Onion) | 4-5 Tblspn |
| Mozarella Cheese | 200 gm |
| Olive Oil | 3 Tblspn |
| Pepper Powder | 1/2 Tsp |
Toppings:
Pizza 1 :Red Onions , Mixed Peppers, Pineapple , Olives & SweetCorn
Pizza 2:Onions,Black Olives , Jalapenos , Mixed Peppers , Sweet Corn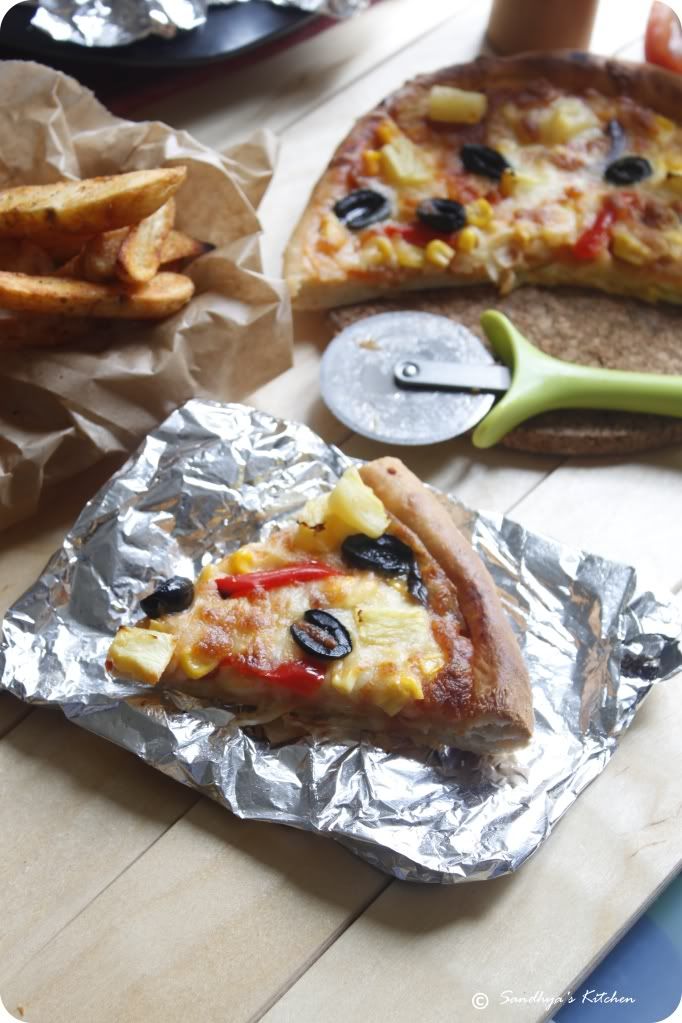 DIRECTIONS
Mix the flour, salt and yeast together in a large bowl and make a well in the middle. In a jug, mix the water and half the oil together, then pour the liquid into the well of the flour mixture and mix to make a soft but not sticky dough. Apply the remaining oil onto your palms and Knead for 10 minutes by hand on a lightly floured work surface . Bring the dough together to a smooth flat ball and place on a large bowl . Cover the pizza dough loosely with oiled clingfilm, making sure it is airtight. Leave in a warm but not hot place for 30–40 minutes. I normally warm the microwave for 1 minute on its own .Once turned off , place the covered pizza dough in the bowl in the microwave. After 40 minutes , they double in size..Airy …
Half the dough and roll them out to a large circle . Prick them with a fork all around to knock out the air. This will bring out the right crust. Fold the edges overlapping onto the other .This is gives us a desired buldge on the edge.
Preheat the oven to 220 C .
Spread a thin layer of pasta sauce leaving the edges,Scatter of half the mozarella cheese over the spread sauce.
Arrange the toppings over the cheese layer , followed by the addition of remaining cheese .A good drizzle of olive oil all over and a definite brushing up on the edges. Place the pizza on your foil covered baking tray .
Bake them for 15 -20 minutes until the crust turns golden brown or the cheese has melted. Allow them cool for 2-3 minutes . In the mean while prepare the second pizza in the same process as the first one.
Serve them at the table with freshly ground pepper , generous drizzle of olive oil & allow the stripping to happen.. Who wudnt love the gorgeous melting pizza on your plate ????
Cheers