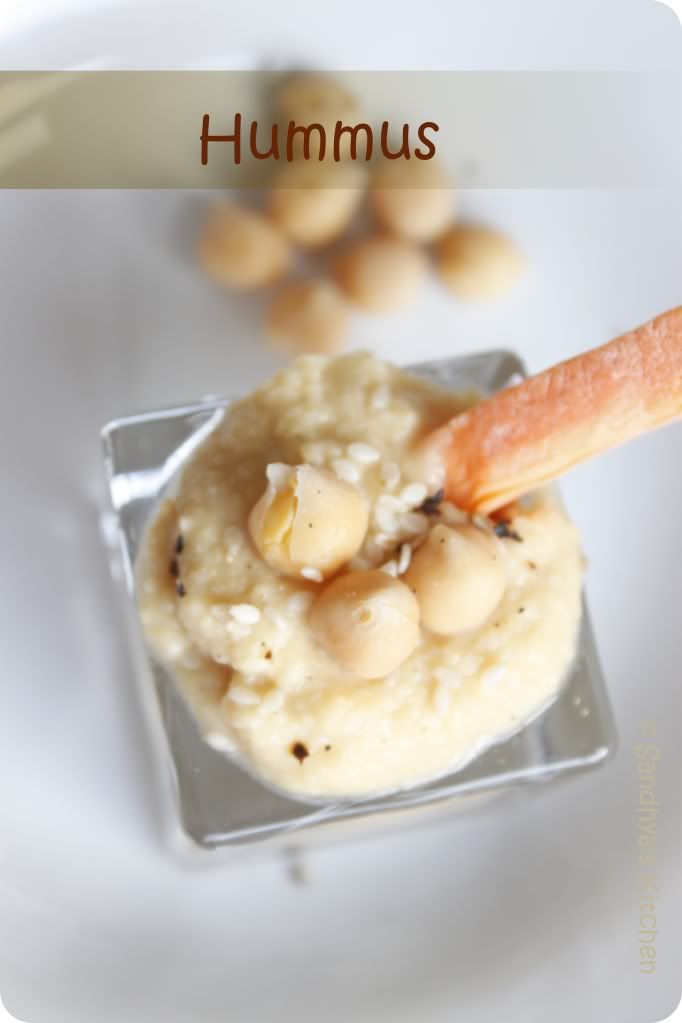 I ts high time I get to serious blogging now… Tat doesnt mean I have not been cooking.. Its just  that I have not been able to muster time in drafting the post.
Climate has been quite dull… forecast is predicted to be cloudy and gray…thoughout this week… And to worsen the bit.. with thunder and showers in the weekend…  Hate it all the more..
Anyways.. bringing u today a very basic hummus receipe I tried.. made them in few minutes.. My first attempt at home… Tasted for the first time at my son's plagroup a few month's ago. Had loved it…Toddlers and Infants are served hummus during snacking time… Since then a packed of seasame seeds have been lying around..
INGREDIENTS:
| | |
| --- | --- |
| Boiled Chick Peas | 150gm |
| Lemon Juice | Roughly 2 Tblspn |
| Garlic | 1 pod |
| Olive Oil | 2-4 Tblspn |
| Black Pepper | 1/2 -3/4th Tsp |
| Seasame Seeds | 1.5 Tblspn |
| Salt | To Taste |
| Jalapenos | Few |
DIRECTIONS:
Combine Seasame seeds with oil in a blender and grind until we obtain a smooth Tahini Paste.
To this paste , add boiled chickpeas( reserve a few for serving) , half the lemon juice , garlic , black pepper and salt. Grind until smooth .Do check for taste and now add the rest of lemon juice as desired . Pour the olive oil on the top , gently mixing.My hummus turned to be a bit garlicky…so I ground the hummus  with jalapenos and it was just ideal for the evening snack.I would suggest to use just 1 garlic pod instead of 2 like I did for the whole can of chickpeas. . Serve the  jalapeno flavoured hummus with the reseved chickpeas, drizzle of olive oil and carrot sticks.
Cheers