Browsing… through every blog and catching up with old pending posts does show that Most of them had a blast on the valentines .Award showering is another beautiful way of recognising each other . Never realised that I have made 101 lovely friends , who make sure to visit my blog and write such beautiful comments !
My lovely SIL – Gayathri living in atlanta shared this recipe of Pasta Salad with me and I made it for my party starter.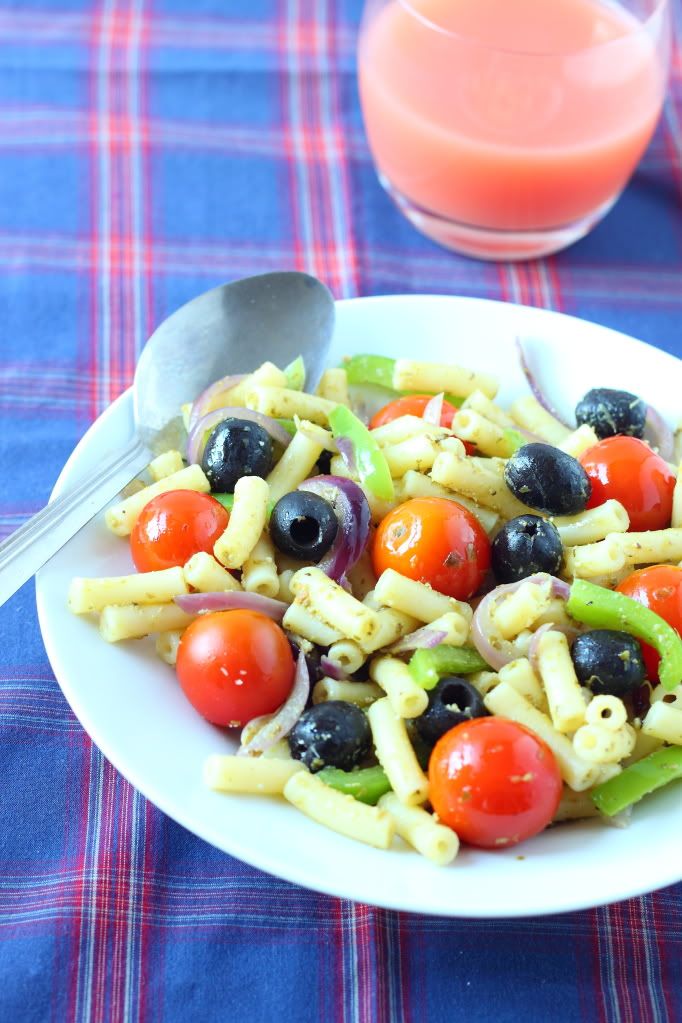 INGREDIENTS :
| | |
| --- | --- |
| Macroni Pasta | 500gm |
| Mixed Peppers | 3Nos sliced length wise 1″ |
| Cherry Tomato | 10 Nos |
| Onion | 1 nos sliced lengthwise 1″ |
| Black Olives | 1/2 cup |
| Olive Oil | 4 Tblspn |
| Pesto Sauce | 4 Tblspn |
| Powdered Parmesan Cheese | 4-5 Tblspn ( as desired) |
| Italian seasoning | 1 Tblspn |
| Salt | To Taste |
| Black Pepper | 1/2 tsp |
| Basil leaves | 1/4 cup chopped finely( Optional) |
DIRECTIONS
Cook the pasta by adding sufficient water with few drops of olive oil and salt in a large pot. Once they  are to the aldente consistency , drain the pasta in the vegetable colander and under running tap water. This will avoid the pasta to stick to each other.
 Chop the onions lengthwise and cut them into 2 . Similarly for the peppers.
Saute onions,bell peppers, black olives for 3 minutes followed by cherry tomatoes for 1/2 a minute. Just ensure they remain crunchy.Turn off the gas…Stir in basil pesto sauce.
In a big mixing bowl add cooked pasta, these vegs, parmesan powdered cheese , salt ,black pepper , italian seasoning and fresh basil .Mix them well and serve as a starter for adults and main course for kids. I haven't used fresh basil out here.. instead used dried basil .
KITCHEN NOTES:
Do not half the cherry tomatoes. Do not saute them too long too.
This recipe comes right in time for Divya's Show me your salad event.
Cheers