L  ight , Healthy and still yumm ..Quite a one pot meal! Tats all tat I can call this recipe.. Its full of my fav flavour.. with just the right ingredients..
My friends mum used to make this for his lunch box.. at college.. More than 6 yrs up .. and one fine day I managed to get in touch with this friend of mine.. who used to call this a  Macroni pasta.. We used to wait all those 4 years whenever he would get this for lunch and we wud attack it right then. My first introduction to Pasta…when was urs??? I have given this borrowed recipe a twist with the available ingredients..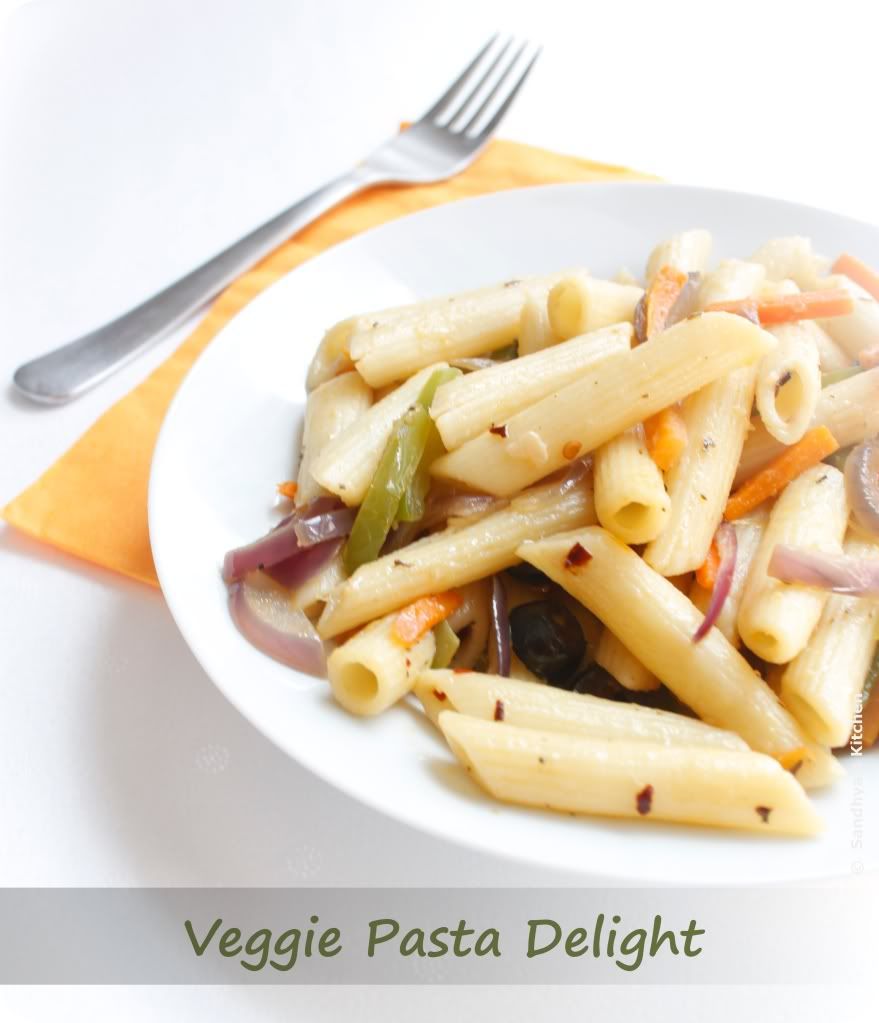 For Printed Version click
here
VEGGIE PASTA DELIGHT
INGREDIENTS:
| | |
| --- | --- |
| Penne Pasta | 250gm |
| Choice of Vegetables | 1 Cup |
| Garlic cloves | 3-4 Nos |
| Chilli Flakes | 3/4 Tsp | Increase or Decrease to suit ur spice |
| Ajinomotto | 3/4th -1 Tsp |
| Olive Oil | 3-4 Tsp |
| Salt | To Taste |
| Dried Basil | A pinch |
DIRECTIONS:
Cook Pasta of your choice in enough water with few drops of olive oil and a pinch of salt. I have chosen Penne.. Once done , drain the water through a colander and run it under tap water.
I have used Red Onions , thinlysliced carrots ,green peas , black olives and diced green peppers to make my bowl of veggies.
Heat 2 tsp of oil in a pan , drop in chopped garlic . Once it gets fried , add in chillie flakes and the veggie bowl. Saute them for about 2 min . Make sure veggies are still crunchy. Drop in ajinomotto and sprinkle the required salt.
Now mix together the cooked pasta and saute for another a min. Sprinkle the basil and serve it hot.
Alternatively prepare by adding garlic, dried red chillies and rock salt in the blender and give it blend. Add them to the olive oil , once done drop in the veggies and saute them with a pinch of ajino motto.Mix together the cooked pasta , saute for a min , garnish with basil and serve hot.